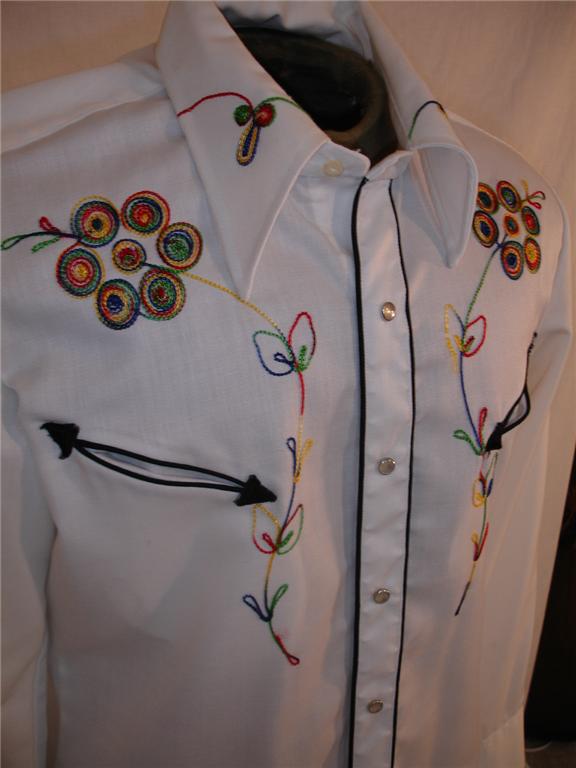 After a summer break, Kitsch-y-Cool Vintage is back with the weekly eVintage blog tag!
This week is TOPS with us! Make sure you check out our friends at Damn Good Vintage who've tagged us!

1) Show us your favorite blouse or top in your inventory!
We love this swingin' western embroidered shirt currently in our inventory at Kitsch-y-Cool Vintage. 1970's from Sears Western Collection - it's rainbow colors make us happy!

2)Tee shirts or blouses, whats your personal style?
Most days - (ok almost everyday) will find me in tee shirt and jeans.

3)Favorite tee shirt EVER?
Probably my husbands 1975 high school wrestling team tee shirt.

4)Favorite era for a vintage blouse? Think 40s rayons with nipped waists, sheer ruffled 50s nylons for layering, perky 60s cotton prints…..
When I worked the corporate job - I loved to use 40s nylon blouses mixed with business suits...but the 60's mod prints go great with my funky casual look.

5)What are you tops at? Tell us what you're better than ANYONE else at!
I am the BEST at making up excuses not to work on my sewing / repairing projects!
Now we're off to see what Funkoma has to say!