Fun new Fresh Vintage arrived this weekend at Kitsch-y-Cool!
For the Guys...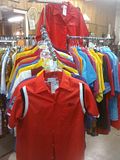 We've got1970's transfers with Vintage Mens Swim Trunks and Shorts, Kitschy Bowling Shirts, Way Cool Vintage Military Bags, 1980's style Baja tops, and Vintage Overalls!
And for the Gals..
A new selection of fluffy 1970's / 1980's bow blouses, Groovy embroidered Hippie Blouses, and Fun Spring skirts!