Well we're just back from our sojourn to one of our favorite Mid-West shopping havens and we've come back with over 100 Fresh Vintage Coats and they're all arriving this week to our location in
Charlotte
!! Eee Gads!
OK, so the photos are really bad...but when you're rushing around you've gotta snap what you can!

Fresh Vintage Leather Coats waiting to be tagged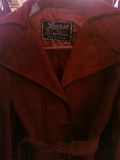 1970's Sweet Suede Trenchcoat

FAB 1960's Red Leather Car Coat

1980's Crop Waist Leathers

1960's-1980's Vintage Furs and Animal Friendly Coats
Mostly leathers, we searched and searched and piled them high to bring them back to Charlotte just in time for cooler weather!